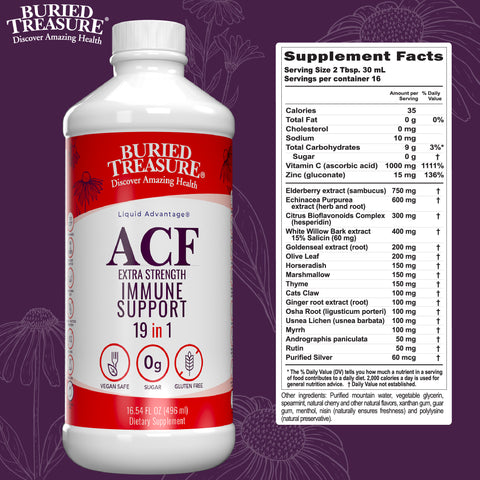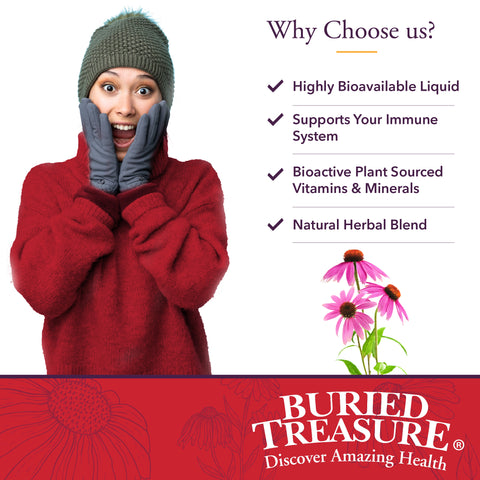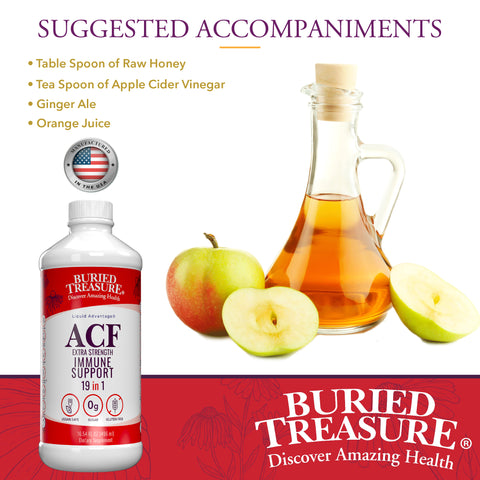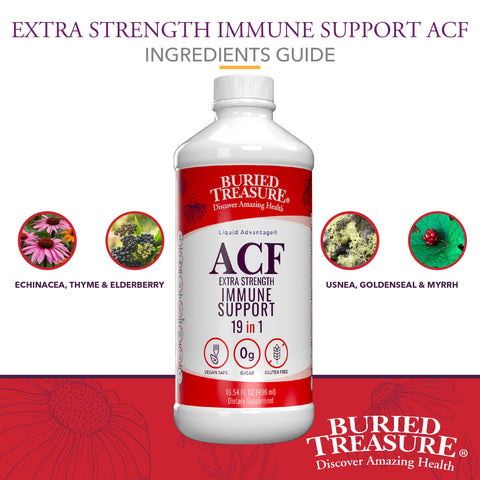 Buried Treasure Liquid Nutrients
ACF Extra Strength Immune Support 16 servings
What It Is
Our ACF Extra Strength Immune Support Liquid Supplement, a formulated blend designed to support a healthy immune system. This supplement makes a guilt-free addition to your daily routine.
Our Immune Support Liquid Supplement contains a unique combination of ingredients, including Vitamin C (Ascorbic Acid), Zinc Gluconate, Elderberry extract, Echinacea Purpurea extract, Citrus Bioflavonoids Complex, White Willow Bark extract, Goldenseal extract, Olive Leaf, Horseradish, Marshmallow, Thyme, Cat's Claw, Ginger root extract, Osha Root, Usnea Lichen, Myrrh, Andrographis Paniculata, Rutin, and Purified Silver (SilverSol 30ppm).
One of the benefits of liquid supplements is the ease of use and convenience they provide. Our Immune Support Liquid Supplement is no exception, with a simple-to-follow dosing, that makes incorporating it into your routine effortless and pleasant.
To enjoy the benefits of our Immune Support Liquid Supplement, please follow the label instructions. By choosing this crafted product, you are taking a step toward supporting a healthy immune system.
How To Use
DIRECTIONS: Shake well before each use. Refrigerate after opening. Best if used within 45 days of opening. USE: Take two tablespoons (30ml.) four times daily until the bottle is gone. Always consult your physician before using. We recommend mixing with your favorite juice. Do not take on an empty stomach. CAUTION: This is product is not recommended for pregnant nursing women or women who may become pregnant. This product should not be given to children under 12 years of age, or people taking blood pressure medication. Keep out of reach of children.
Supplement Facts
Calories
35
Total Fat
0 g
Cholesterol
0 mg
Sodium
10 mg
Total Carbohydrates
9 g
Sugars
0 g
Vitamin C ( Ascorbic Acid )
1000 mg
Zinc Gluconate
15 mg
Elderberry extract (sambucus )
750 mg
Echinacea Purpurea extract (herb & Root)
600 mg
Citrus Bioflavonoids Complex ( Hesperidin )
300 mg
White Willow Bark extract
15% Salicin (60mg)
400 mg
Goldenseal extract (root)
200 mg
Olive Leaf
200 mg
Horseradish
150 mg
Marshmallow
150 mg
Thyme
150 mg
Cats Claw
100 mg
Ginger root extract (root)
100 mg
Osha Root (ligusticum porteri)
100 mg
Usnea Lichen (usnea barbata)
100 mg
Myrrh
100 mg
Andrographis paniculata
50 mg
Rutin
50 mg
Purified Silver (SilverSol 30ppm)
60 mg
Other Ingredients: Purified mountain water, vegetable glycerin, natural cherry, spearmint and other natural flavors, xanthan gum, guar gum, menthol, nisin (naturally ensures freshness) and polylysine (natural preservative)