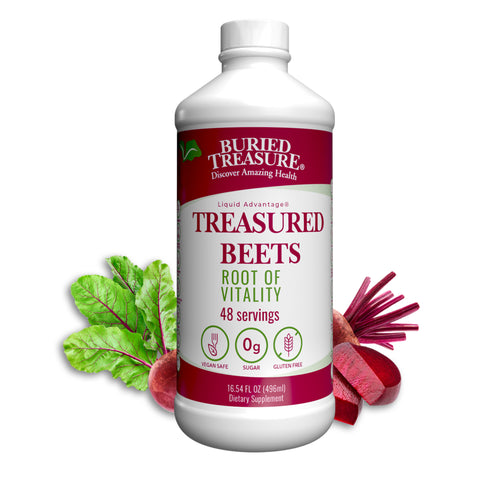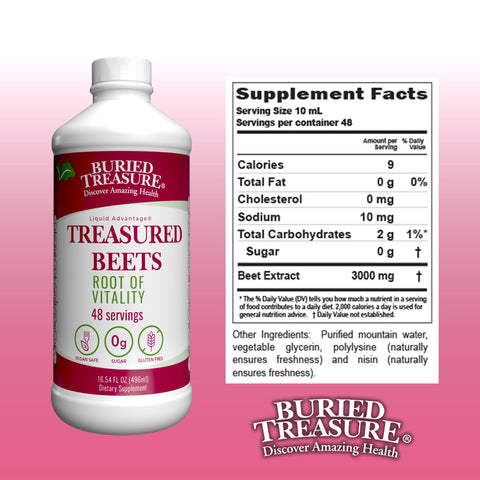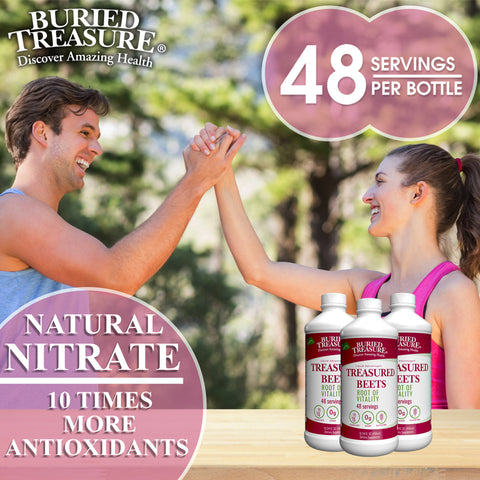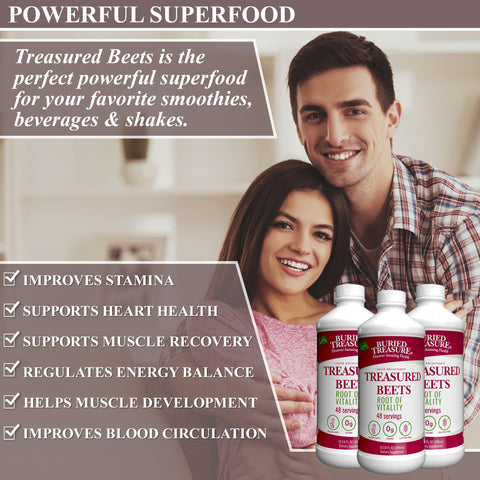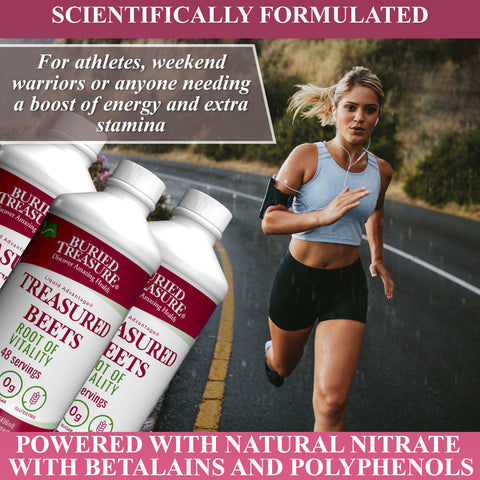 Buried Treasure Liquid Nutrients
Treasured Beets Concentrated Beetroot Juice and Nitric Oxide Support- 16 servings
What It Is
Introducing our Concentrated Beetroot Juice a dietary supplement designed to provide you with some of the nutritious benefits of beetroot in a convenient, ready-to-use form.
Each serving contains only 9 calories, fitting well within most dietary restrictions. It has 0 grams of total fat and cholesterol, and a minimal 10 mg of sodium. With only 2 grams of total carbohydrates and no added sugars, this supplement offers you a healthy way to enhance your nutritional intake.
The highlight of our formula is the generous 3000 mg of Beet Extract per serving. Beetroot is known for its high nitrate content.
Designed for ease of use, our Concentrated Beetroot Juice and can be easily incorporated into your daily routine. Remember, this product provides 16 servings, a thoughtful design to accommodate your dietary needs.
Our Concentrated Beetroot Juice is a fusion of convenience and nutrition, in an easy-to-use format.
How To Use
DIRECTIONS: Shake well before each use. Refrigerate after opening. Best if used within 45 days of opening.
USE: Take 10 ml (1 teaspoon)
CAUTION: Pregnant and nursing women should check dosage with their healthcare professional.
Supplement Facts
| | |
| --- | --- |
| Calories | 9 |
| Total Fat | 0 g |
| Cholesterol | 0 mg |
| Sodium | 10 mg |
| Total Carbohydrates | 2 g |
| Sugar | 0 g |
| Beet Extract | 3000 mg |
Other Ingredients: Purified mountain water, vegetable glycerin, polylysine (naturally ensures freshness) and Nisin (naturally ensures freshness)