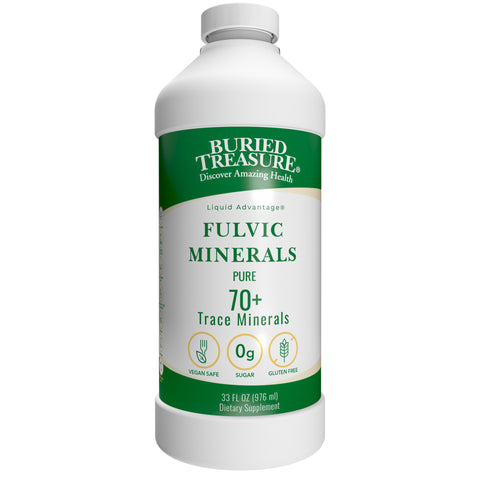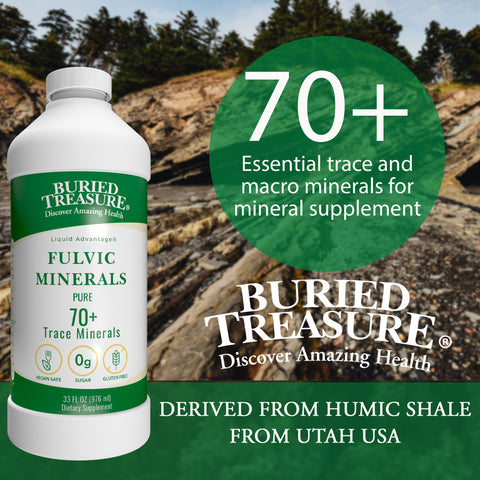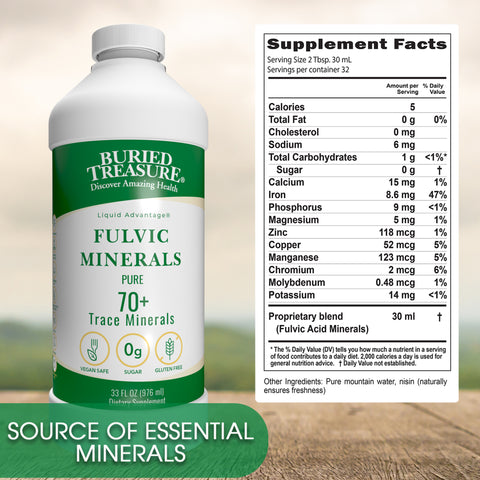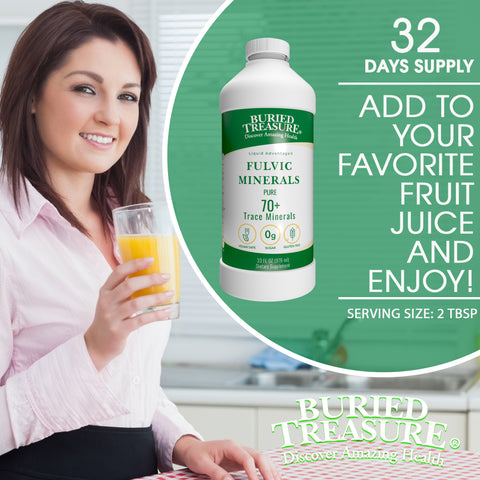 Buried Treasure Liquid Nutrients
Fulvic Minerals Complex Humic Shale derived Essential Minerals, Natural Energy & Immunity Support, 32 servings
What It Is
Our Fulvic Minerals Complex Liquid Supplement is a blend of minerals such as:
• Calcium with 15 mg
• Iron with 8.5 mg
• Phosphorus with 9 mg
• Magnesium with 5 mg
• Zinc with 115 mcg
• Copper with 52 mcg
• Manganese with 123 mcg
• Chromium with 2 mcg
• Molybdenum with 0.48 mcg
• Potassium with 14 mg
Each serving of our Fulvic Mineral Complex liquid supplement has 5 calories, O grams of Fat, and zero sugar. Our Fulvic Minerals Complex Liquid Supplement offer several advantages, including ease of use, a pleasant taste, and flexible dosing options. Our Fulvic Minerals Complex Liquid Supplement can also be mixed with your favorite beverages, making it simple to incorporate essential minerals into your daily routine.
Follow the instructions on the label to enjoy our Fulvic Minerals Complex and support your health.
How To Use
DIRECTIONS: SHAKE WELL BEFORE EACH USE. REFRIGERATE AFTER OPENING. BEST IF USED WITHIN 45 DAYS FROM OPENING. Serving suggestions: Drink it straight, mix with cold water, mix with ice tea or in a smoothie. Adults should take 2 tablespoons daily. Do not take on an empty stomach. Caution: Pregnant and nursing women should check dosage with their healthcare professional. Keep out of reach of children.
Supplement Facts
| | |
| --- | --- |
| Calories | 5 |
| Total Fat | 0 g |
| Cholesterol | 0 mg |
| Sodium | 6 mg |
| Total Carbohydrates | 1 g |
| Sugars | 0 g |
| Calcium | 15 mg |
| Iron | 8.6 mg |
| Phosphorus | 9 mg |
| Magnesium | 5 mg |
| Zinc | 118 mcg |
| Copper | 52 mcg |
| Manganese | 123 mcg |
| Chromium | 2 mcg |
| Molybdenum | 0.48 mcg |
| Potassium | 14 mg |
| Proprietary blend | 30 ml |
Other Ingredients: Purified mountain water, nisin (naturally ensures freshness)