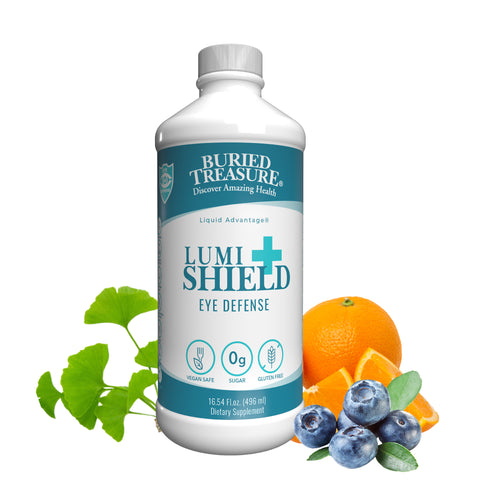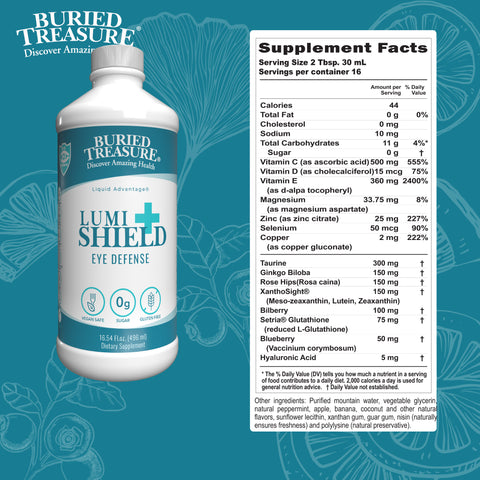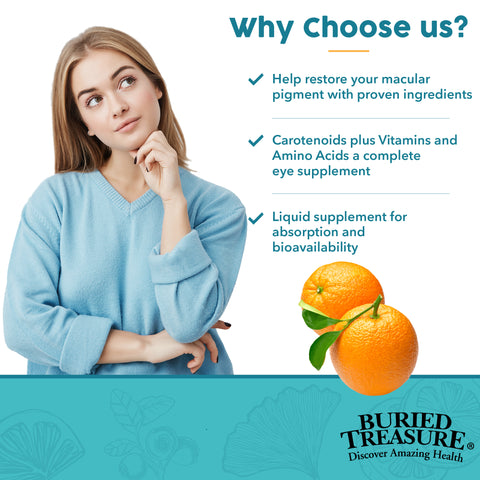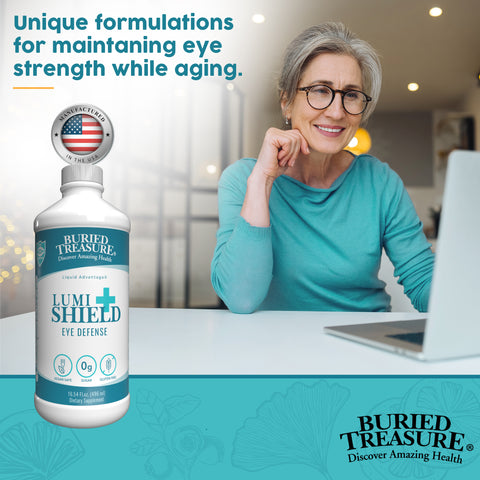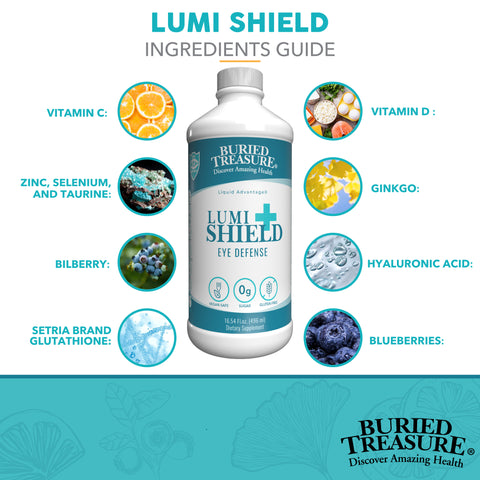 Buried Treasure Liquid Nutrients
Lumi Shield Plus Eye Health Vitamin Formula - 16 servings
What It Is
Introducing our Eye Health Supplement, a formulation designed with your vision in mind. This supplement is crafted to provide vitamins, minerals, and botanical extracts, all while maintaining a profile free of fat, cholesterol, and sugars.
Carotenoids have demonstrated to promote macular pigment
Lumi Shield Plus supports the eyes
◦ to help clearly and with fine details like reading with low light or doing crafts like sewing or needlepoint'
◦ to help improve seeing objects clearly from their background colors
◦ to help support the sensitivity to bright light including from the sun
◦ to help support recovery from the glare of high intense light like from cars at night
◦ to help absorb the harmful blue light, which assists the body in protecting the photo receptors from damage.
As with all dietary supplements, it is recommended to speak with a healthcare provider before beginning any new supplement routine.
How To Use
DIRECTIONS: SHAKE WELL BEFORE EACH USE. REFRIGERATE AFTER OPENING. BEST IF USED WITHIN 45 DAYS FROM OPENING. Serving suggestions: Drink it straight, mix with cold water, mix with ice tea or in a smoothie. Adults should take 2 tablespoons daily. Do not take on an empty stomach. Caution: Pregnant and nursing women should check dosage with their healthcare professional. Keep out of reach of children.
Supplement Facts
Calories
44
Total Fat
0 g
Cholesterol
0 mg
Sodium
10 mg
Total Carbohydrates
11 g
Sugars
0 g
Vitamin C (as ascorbic acid)
500 mg
Vitamin D (as cholecalciferol)
15 mcg
Vitamin E (as d-alpa tocopheryl)
360 mg
Magnesium (as magnesium aspartate)
33.75 mg
Zinc (as zinc citrate)
25 mcg
Selenium
50 mcg
Copper (as copper gluconate)
2 mg
Taurine
300 mg
Ginkgo Biloba
150 mg
Rose Hips(Rosa caina)
150 mg
XanthoSight®
(Meso-zeaxanthin, Lutein, Zeaxanthin)
150 mg
Bilberry
100 mg
Setria® Glutathione (reduced L-Glutathione)
75 mg
Blueberry (Vaccinium corymbosum)
50 mg
Hyaluronic Acid (from Sodium Hyaluronate)
5 mg
Other ingredients: Purified mountain water, vegetable glycerin, natural peppermint, apple, banana, coconut, and other natural flavors, sunflower lecithin, xanthan gum, guar gum, nisin (naturally ensures freshness), and polylysine (natural preservative).