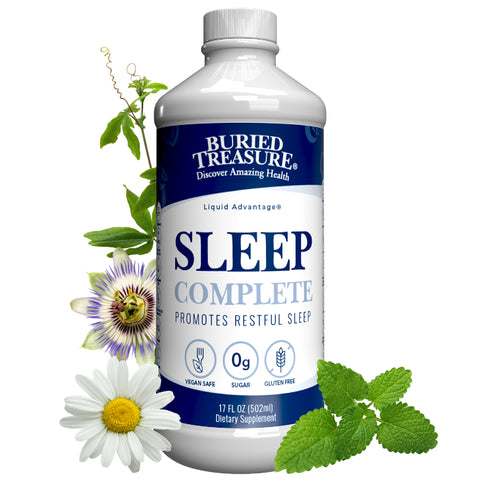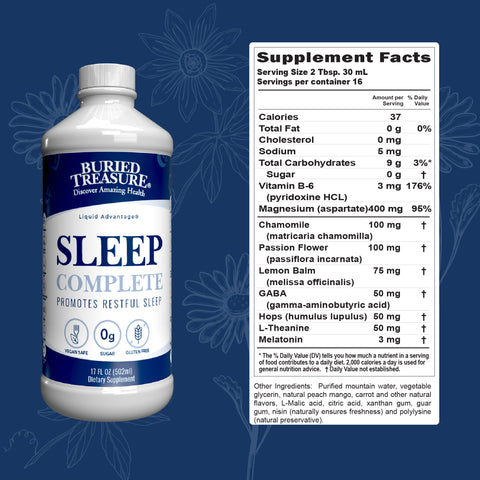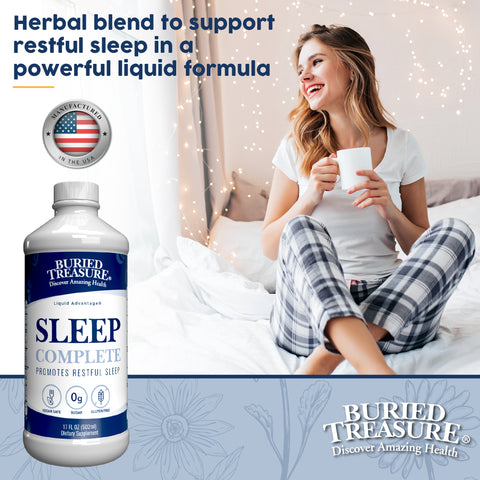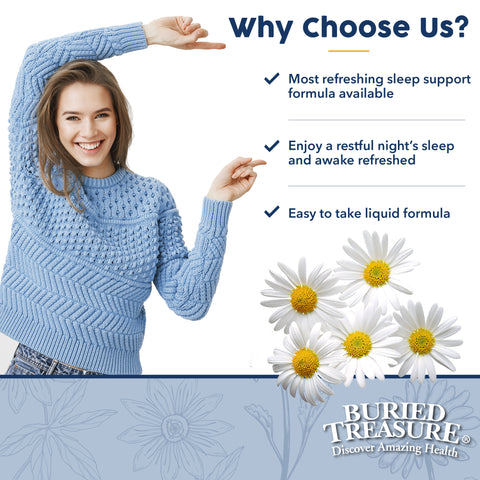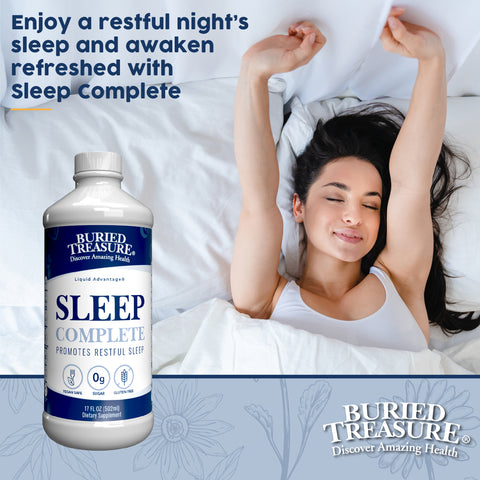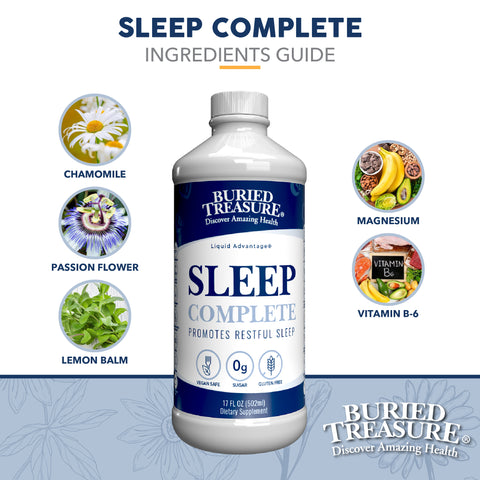 Buried Treasure Liquid Nutrients
Sleep Complete Natural Sleep Supplement with Melatonin Now with 0g sugar, 16 servings
What It Is
Introducing our Sleep Supplement, a blend designed to support restful sleep and relaxation. This formula combines nutrients and traditionally used herbs, aiming to create a natural, soothing environment for better sleep.
Key Features of our Sleep Supplement include:
1. Essential Nutrients: Our formula includes Vitamin B-6 and Magnesium, two nutrients that play a role in many bodily functions.
2. Herbal Blend: A combination of Chamomile, Passion Flower, Lemon Balm, and Hops, at higher doses are traditionally used for their calming and sleep-promoting properties, incorporated into our formula.
3. Melatonin: A hormone that your body naturally produces, melatonin signals your brain that it's time to sleep. Our supplement includes a 3 mg dose of melatonin.
Each serving of our Sleep Supplement provides 37 calories, 5 mg of sodium, 9 grams of total carbohydrates, and zero sugar making it a low-calorie addition to your bedtime routine.
As with all dietary supplements it is recommended that you consult with a healthcare provider before starting any new supplement routine.
How To Use
DIRECTIONS: SHAKE WELL BEFORE EACH USE. REFRIGERATE AFTER OPENING. BEST IF USED WITHIN 45 DAYS FROM OPENING. Serving suggestions: Drink it straight, mix with cold water, mix with ice tea or in a smoothie. Adults should take 2 tablespoons daily. Do not take on an empty stomach. Caution: Pregnant and nursing women should check dosage with their healthcare professional. Keep out of reach of children. CAUTION: When using this product avoid alcoholic drinks, drowsiness may occur. Do not drive a motor vehicle or operate machinery after use.
Supplement Facts
| | |
| --- | --- |
| Calories | 37 |
| Total Fat | 0 g |
| Cholesterol | 0 mg |
| Sodium | 5 mg |
| Total Carbohydrates | 9 g |
| Sugars | 0 g |
| Vitamin B-6 (pyridoxine HCL) | 3 mg |
| Magnesium (aspartate) | 400 mg |
| Chamomile (matricaria chamomilla) | 100 mg |
| Passion Flower (passiflora incarnata) | 100 mg |
| Lemon Balm (melissa officinalis) | 75 mg |
| GABA (gamma-aminobutyric acid) | 50 mg |
| Hops (humulus lupulus) | 50 mg |
| L-Theanine | 50 mg |
| Melatonin | 3 mg |
Other Ingredients: Purified mountain water, vegetable glycerin, natural peach mango, carrot, and other natural flavors, L-Malic acid, citric acid, xanthan gum, guar gum, nisin (naturally ensures freshness), and polylysine (natural preservative).